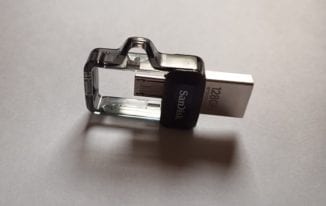 It seems consumers can't get enough storage these days on their devices. With tons of content to download online and loads of memories to document (now in super high resolution 4K), the built-in storage on our smartphones and other devices are struggling to keep-up.
Often times it comes down to making a rigorous and sometimes draining judgement call on which files to delete just so you can free-up some space on your device.
However, with the SanDisk Ultra Dual Drive m3.0 you may never delete a file except you want to.
It offers super-fast file transfer with speeds of up to 150MB/s, thanks to the native USB 3.0 support.
The device is versatile, offering dual ports; a microUSB port on one end suited for USB On the Go (OTG) enabled Android smartphones and a USB-Type A port for PCs and Mac computers.
However, to crown it all cost per GB of this devices looks quite cheap, making it a very competitive offering in the market.
You can buy the SanDisk Ultra Dual Drive m3.0 at a local store in capacities of 16GB, 32GB, 64GB, 128GB, and 256GB.
We got our hands on the 128GB capacity of the flash drive and will be sharing our review here
Unboxing the SanDisk Ultra Dual Drive m3.0
The USB flash drive comes in a cardboard pack with a transparent housing in the middle for the device. You cut the pack open to reveal the transparent housing with a polythene cover.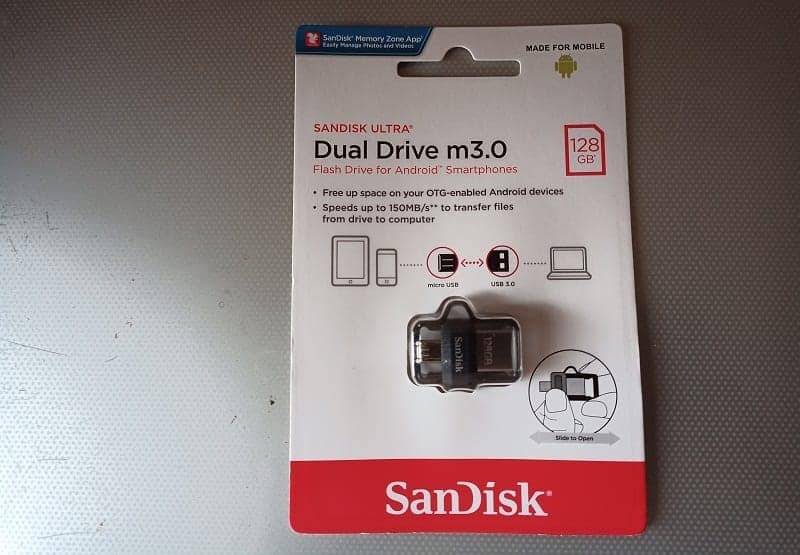 Once the top cover is gently removed you can now handle the flash drive.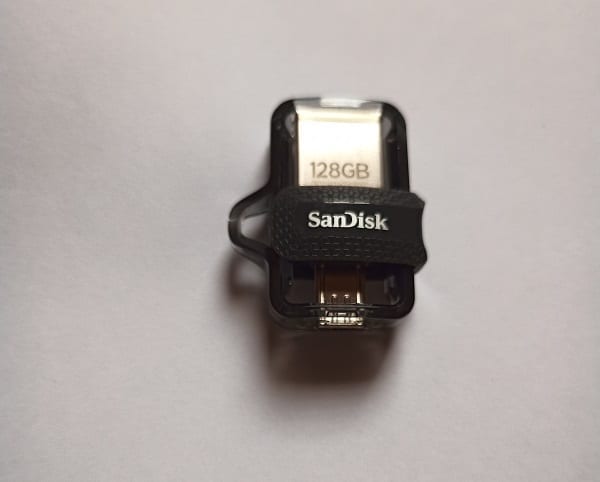 The Design
The SanDisk Ultra Dual Drive m3.0 comes in a very compact design. Holding this in my hands, I had to marvel at how far technology as evolved. Despite being small generally, the part of the device that houses the storage occupies an even smaller footprint.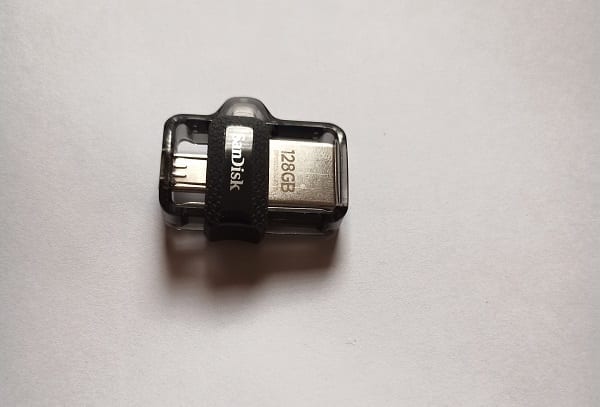 The USB flash drive comes in a dark transparent plastic frame with a dark grey centre core that houses the storage sandwiched between the two ports.
On one side you have the microUSB port that can plug into your OTG enabled Android phone and and on the other side a full-sized USB Type A port that connects to your Windows or Mac computer.
The centre core is not in a fixed position. It is mobile and glides on the outer frame. You can move it to one end to access the microUSB port.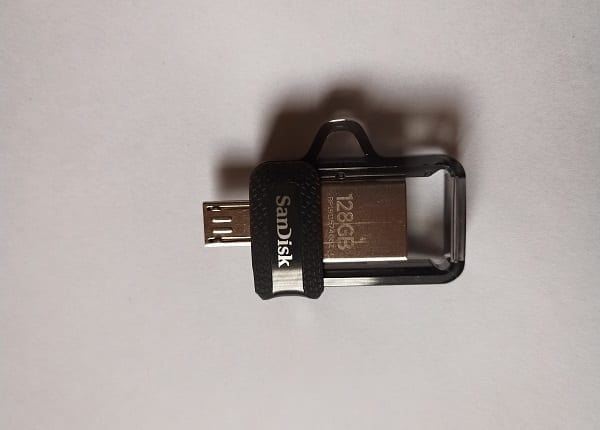 Similarly, moving it to the opposite end will make the USB Type A port accessible.
On one of the side frames, there is an opening for a key ring that you can attach to your keychain or a lanyard that you can wear around your neck.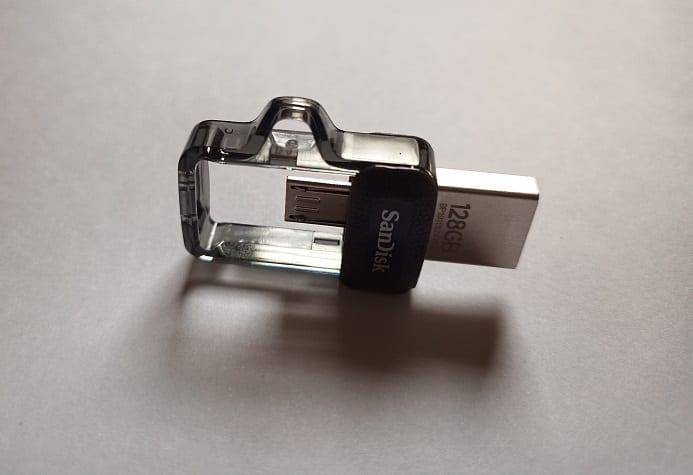 This addition is very thoughtful as the compact design means you can easily misplace the flash drive if you do not attach it to something.
The Performance
SanDisk Ultra Dual Drive m3.0 can connect to both OTG-enabled android phones and Windows / Mac computer. The flash drive is compatible with computers running on Windows Vista, Windows 7, Windows 8, Windows 10, and Mac OS X v10.7 and above.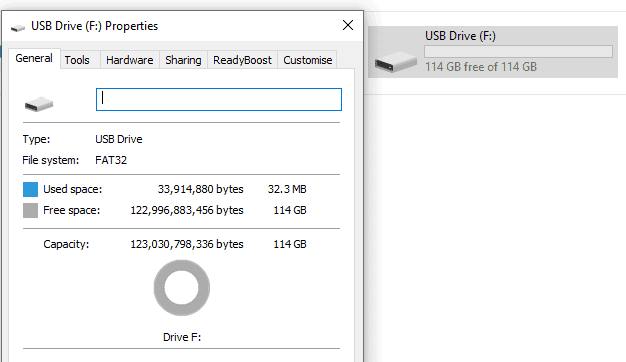 Connecting it to a Windows computer and checking its properties shows about 114GB free storage space.
I copied a 3.04GB video from my computer to the flash drive in 2 minutes 47 seconds achieving a maximum transfer speed of about 22.2 MB/s.
I also tried the other way around i.e. copying the same 3.04GB file from the flash back to the computer. It was faster this time transferring in 1 minute, 24 seconds and recording a maximum speed of about 39.5 MB/s.
What about transferring files in smartphone?
The SanDisk Ultra Dual Drive m3.0 supports OTG enabled android phones and tablets.
Since it comes with a microUSB port, I decided to first test it on the Lenovo K5 Play.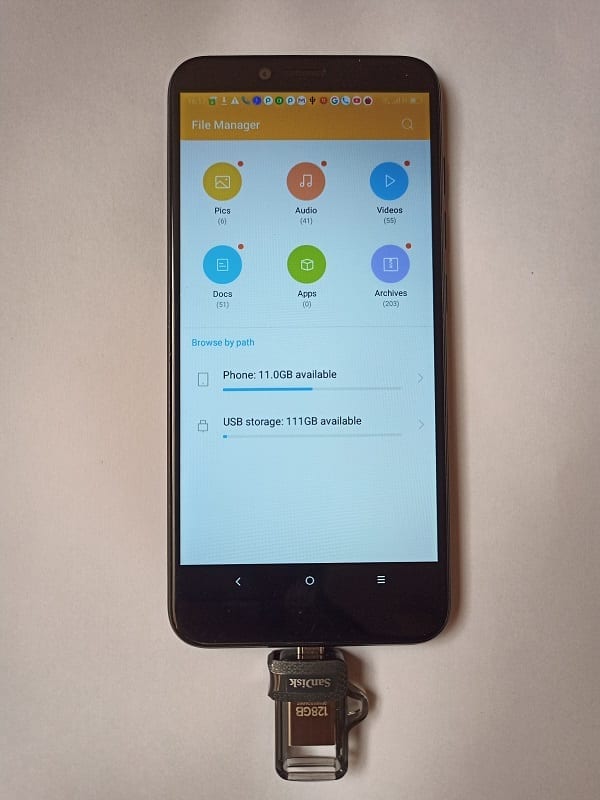 Once I connected it, a notification appeared. Tapping the notification opens the USB storage where all files and folders in the flash drive are visible.
You can also just simply go to the File manager of your smartphone to access the USB drive.
I was able to transfer the 3.04GB video from the thumbnail drive to the smartphone in about 2 minutes, 9 seconds. Transferring the same file from the smartphone to the flash drive took about 3 minutes, 14 seconds.
I decided to compare transfer speeds using the newer Umidigi Power 3. However, because the smartphone comes with USB Type C, I needed a microUSB to USB Type C adapter.
Transferring the 3.04GB file from the flash drive to the smartphone took 1 minute, 25 seconds while the reverse transfer took 2 minutes, 40 seconds.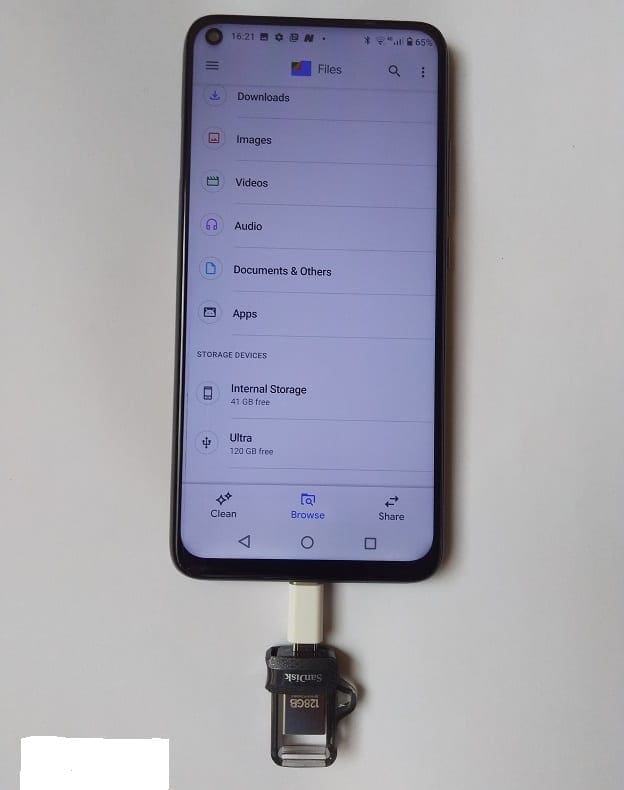 The speed makes the SanDisk Ultra Dual Drive m3.0 a fast and reliable way to transfer files from one device to another.
While you do not need any software to connect the thumbnail drive to your smartphone, downloading and installing the SanDisk Memory Zone app from the Play Store will offer a seamless management of your phone storage and flash drive space.
The app will help you backup, transfer, and manage files and data in your phone's built-in storage and flash drive.
Conclusion
The SanDisk Ultra Dual Drive m3.0 offers a compact and versatile 2 in 1 design. Combining a microUSB port and a USB Type A port, means you can use the same device on your compatible smartphones and computers.
Thanks to the native USB 3.0 support, the flash drive offers super fast transfer speed making it a fast and reliable way to move files from one device the another.
However, there are a few things you need to pay attention to. First, the compact design makes it easy to misplace, so hook it up (using the opening provided) to a keychain or a lanyard you wear around your neck, to keep it safe.
Secondly, the microUSB port is very tall, probably to accommodate ports from many smartphones. This means that if the port on your phone is short like mine, the port will only go halfway, don't try to force it beyond its length. Once it has gone its length you should be rest assured that it is properly connected.
Finally, if your android phone comes with USB Type C, do not forget to buy a microUSB to USB Type C dongle that will enable you connect the flash drive to it.
That said, the SanDisk Ultra Dual Drive m3.0 is a handy device to have around. You can use it to backup your files, as a media library for your movies, or for moving files across multiple devices.
Related Topics
The post SanDisk Ultra Dual Drive m3.0 – Flash Drive for Android Phones and PC / Mac appeared first on Nigeria Technology Guide.